1L/2L/4L/6L Small Lab Planetary Ball Mill Machine
Features
Ideal for wet or dry grinding application

Automatic and programmable control with LED display

High Uniformity and excellent repeatability

Fast rotational speed, high efficiency and fine granularity

Four samples with different sizes and materials in one experiment

Cooling of the grinding chamber with a built-in fan for long grinding times
Technical Data



DECO-PBM-V-1L-B

DECO-PBM-V-2L-B

DECO-PBM-V-4L-B

DECO-PBM-V-6L-B

Working Principle

impact and friction force

Compatible Grinding jar

(100ml~250ml) *4

(250ml~500ml) *4

(500ml~1000ml) *4

(1000ml~1500ml) *4

Max Feeding Capacity

2/3 capacity of the grinding jar

Operation Mode

2 or 4 grinding jars working simultaneously

Max Feeding Granularity*

soil materials <= 10mm, other materials <= 3mm

Discharging Granularity

down to 0.1 micron

Sample Type

hard, medium-hard, soft, fibrous, brittle, moist – dry/wet

Jar Rotational Speed

800rpm

Rotational Speed Ratio

1 : 2

Dia. of Planetary Disk

340mm

340mm

340mm

340mm

Drive Mode

gear drive and belt drive

Speed Control

stepless speed regulation

Electrical Details

100-120/220-240 V/1~, 50/60 Hz, 750 Watt

Continuous Grind Time

Max 72hours (full-load)

Net Weight

75kg

75kg

85kg

95kg

Gross Weight

95kg

100kg

105kg

115kg

Dimension

L720mm*W468mm*H535mm

Package Details

L800mm*W500mm*H800mm
* If the sample feed is larger than these then it must first undergo preliminary size reduction.
Structure Details
Performing a Grinding Operation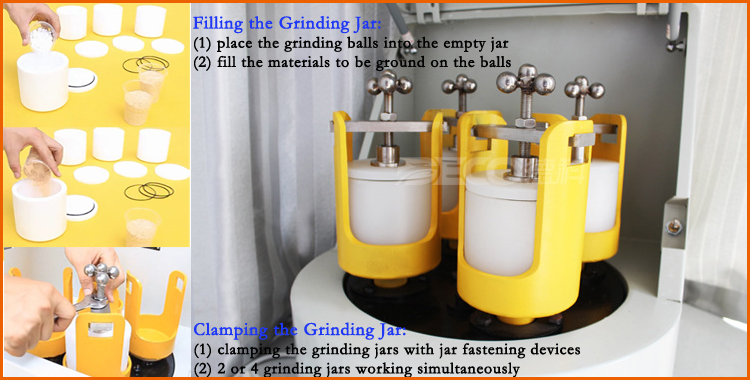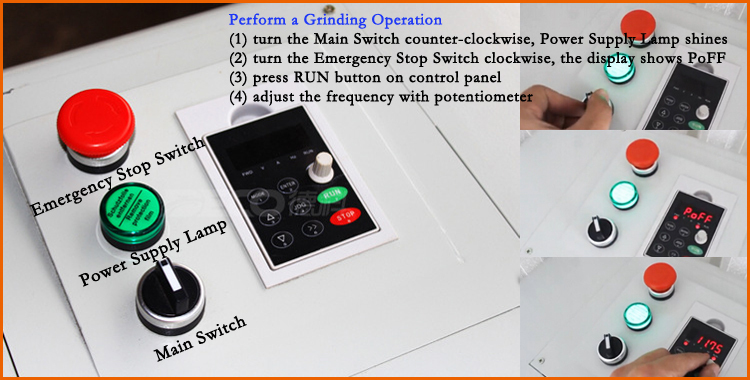 Working Principle
Planetary ball mill has four ball grinding jar holders installed on one planetary disk. When the planetary disk rotates, the jar axis makes planetary movements and the balls in the jars grinds and mixes samples in high speed movement. The instrument can smash and blend various products of different materials and granularity with dry or wet methods. Minimum granularity of grinded products can be as small as 0.1 micron.
Examples of Comminution Tasks

| | | | |
| --- | --- | --- | --- |
| Material | Glass | Wood | Ceramic/Sand |
| Quantity | 500g | 300g | 400g |
| Material of Ball Mill Jar | PP | Nylon /PA6 | 304 Stainless Steel |
| Jar Volume | 0.5L | 0.5L | 0.5L |
| Material of Grinding Balls | Zirconium Oxide | Zirconium Oxide | 304 Stainless Steel |
| Ball Diameters | 5/10/20mm | 5/10/20mm | 5/10/20mm |
| Ball Quantity | 0.8kg | 0.8kg | 0.8kg |
| Feeding Granularity | 15mm | 10mm | 5mm |
| Grinding Time | 10min | 10min | 10min |
| Grinding Mode | dry grinding | dry grinding | dry grinding |
| Jar Rotational Speed | 500rpm | 500rpm | 500rpm |
| Discharging Granularity | ~900mesh | ~600mesh | ~800mesh |

Before - After