Nitrogen Glove Box, Lab Vacuum Glove Box with 2 antechamber
Description:
The vacuum glove box system can be used for handling
(i) a solid, powder, or a liquid which is unstable in the air
(ii) a radioactive substance
(iii) a very toxic substance.
After forcibly evacuated in a short period of time by a vacuum pump, the system inside is hermetically filled with predetermined inert gas (N2, Ar, He, dry air or the like) up to a normal pressure. Operations can be executed through the gloves. A specimen is put in and out through the antechamber.
Specifications
Power

110V/220VAC, 50/60Hz

Glove Box Chamber

• Glove Box : DECO-VGB-SS-2

• Single Sided and Single Length (2 Ports)

• Case Material : Made of 6mm thickness 304 stainless steel sheet which provide heavy duty structure for vacuum

• Dimensions : 765mm(L) x 610mm(W) x 700mm(H)

• Full view front panels, 680mm(L) x 300mm(W) x 15mm(T)

• With 2 glove ports, Dia145mm

• Max. Positive Pressure : 0 MPa

• Max. Vacuum Level : -0.1 MPa

Antechamber

• Dimensions : 280mm(OD) x 360mm(L) x 6mm(T)

• 304 stainless steel, mounted on right end panel

• Stainless Steel sliding tray included

• Manual antechamber ball valves for evacuation and refill

• Max. Vacuum Level : -0.1 MPa

Antechamber, Mini

• Dimensions : 120mm(OD) x 200mm(L) x 6mm(T)

• 304 stainless steel, welded to right panel

Glovebox Purge

• Manual 304 stainless steel ball valve. Standard feature.

LED Light

• 12V 28W 1800LM LED rigid bar, inner fixed over the window

Glove Port Cover

• Dia160mm x 8mm(T), 304 stainless steel sliding tray

Leakage Rate in Glove Box Chamber

< 3 Torr/hour

Internal Power Extension

• One extension socket (Max power 6000W) is installed in the glove box main chamber.

Gloves

• Size : 200mm(D) x 800mm(L) x 0.4mm(T)

• One pair of Black Butyl Gloves are included for immediate use

Vacuum Pump

• Pumping rate : 2.1 CFM (3.6 m3/h)

• Rotary-vane Vacuum Pump

Net Weight

• 190KG

Warranty

• One year limited warranty with lifetime support

• Rusting and damage due to improper storage condition or maintenance is not covered by warranty

Application Notes

• Always check the joints, gloves, sealing elements, and pipelines for air-tightness before and during the operation

• Corrosive gases are prohibited as they will damage the sensors

• The inlet and outlet of the Antechamber must not be opened at the same time to prevent contamination by the external gas
Photo Show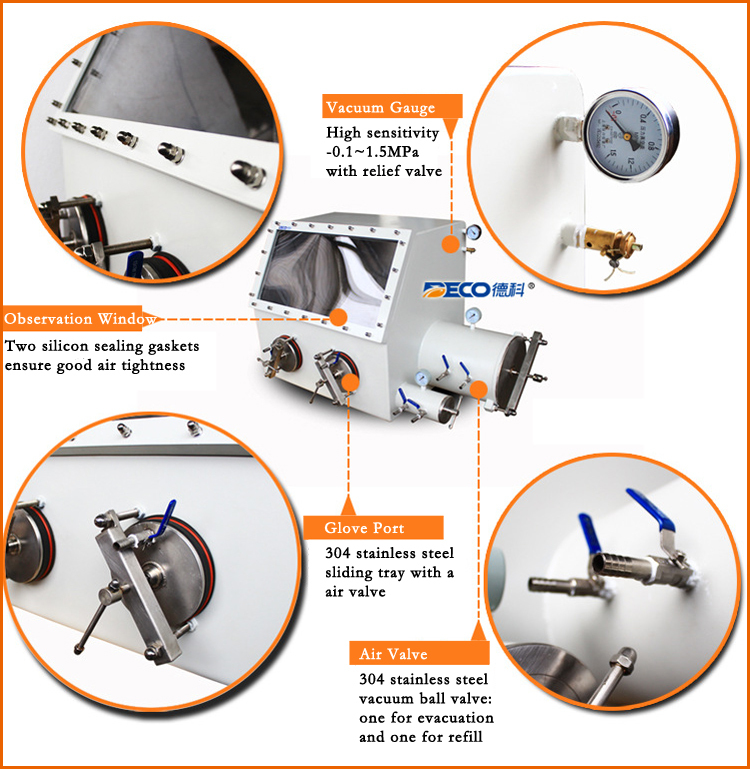 Accessories
| | | |
| --- | --- | --- |
| Item | Quantity | Description |
| | | |
| Glove Box Chamber | 1 | 304 stainless steel, L765*W610*H700mm |
| | | |
| Antechamber | 1 | 304 stainless steel, L360*D280*T6mm |
| | | |
| Antechamber, Mini | 1 | 304 stainless steel, L200*D120*T6mm |
| | | |
| Antechamber, Mini Door | 1 | 304 stainless steel, D120*T6mm |
| | | |
| Observation Window | 1 | Tempered Glass, L680*W300*T15mm |
| | | |
| LED Light | 2 | 12V 28W 1800LM, LED Rigid Bar |
| | | |
| Internal Power Extension | 1 | 0.8m wire, Max 6000W |
| | | |
| Glove | 1pr | Black Butyl gloves, L800*D200*T0.4mm |
| | | |
| Ball Valve | 8 | 304 stainless steel |
| | | |
| Vacuum Gauge | 3 | -0.1MPa |
| | | |
| Vacuum Pump | 1 | Rotary-vane vacuum pump, 2.1 CFM |
| | | |
| Vacuum Tube | 1 | 2m, transparent |