20L Enhanced high energy planetary ball milling machine
Description
1. Depending on the fineness required, the grinding can be performed dry, in suspension or in inert gas.
2. In addition to comminution, you can also use the mills for mixing and homogenising of emulsions and pastes or for mechanical alloying and activation in material research. The instrument has small volume, complete function, high efficiency and low noise.
3. It is the ideal facility to acquire research samples for research institutes, universities as well as enterprise laboratories (can acquire four samples in one experiment). If mated with vacuum ball milling tanks, it can grind samples in vacuum status.
4. The products is extensively applied to in the fields of Geology, Mining, Metallurgy, Electronics, Construction Material, Ceramics, Chemical Engineering, Light Industry Medicine, Environmental Protection etc.
Working Principle
Planetary ball mill has four ball grinding jar holders installed on one planetary disk. When the planetary disk rotates, the jar axis makes planetary movements and the balls in the jars grinds and mixes samples in high speed movement. The instrument can smash and blend various products of different materials and granularity with dry or wet methods. Minimum granularity of grinded products can be as small as 0.1 micron.
Technical Data
Item NO.

DECO-PBM-V-20L
Applications
pulverizing, mixing, homogenizing, colloidal milling, mechanical alloying
Field of application
agriculture,biology, Chemistry, construction materials, engineering / electronics,
environment / recycling, geology / metallurgy, glass / ceramics, medicine / pharmaceuticals
Feed material
soft, hard, brittle, fibrous - dry or wet
Size reduction principle
impact, friction
Material feed size*
Soil material< 10mm, other materials< 3mm
Final fineness*
< 1 µm, for colloidal grinding < 0.1 µm
Compatible grinding jars
(3L-5L)*4
No.of grinding stations
4
Speed ratio
1 : -1.5
Rotation Speed of Planetary Disk
215 rpm
Material of grinding tools
stainless steel, tungsten carbide, agate, sintered aluminium oxide, zirconium oxide,
PTFE, Nylon etc
Setting of grinding time
digital, 00:00:01 to 99:59:59
Interval operation
yes, with direction reversal
Interval time
00:00:01 to 99:59:59
Pause time
00:00:01 to 99:59:59
Storable SOPs
10
Drive power
4KW
Input voltage
AC380V
Protection code
IP 30
Dimension
1250 x750 x 950 mm
Net weight
350kg
Standards
CE
Product name

Item NO.

Voltage

Power(KW)

Rotation Speed

Dimension

Weight(KG)

Jar(rpm)

Sun Wheel(rpm)

(L*W*H)

CM

Enhanced planetary ball mill

DECO-PBM-V-8L

220V

1.5

70-580

35-290

90*60*70

150

DECO-PBM-V-10L

220V

1.5

70-580

35-290

90*60*70

160

DECO-PBM-V-12L

220V

1.5

70-580

35-290

90*60*70

170

DECO-PBM-V-20L

380V

4

50-430

25-215

125*75*95

350

DECO-PBM-V-40L

380V

5.5

40-390

20-195

145*90*12

500

DECO-PBM-V-60L

380V

7.5

40-260

20-174

160*100*135

1000

DECO-PBM-V-60L

380V

7.5

40-240

20-160

180*110*120

1200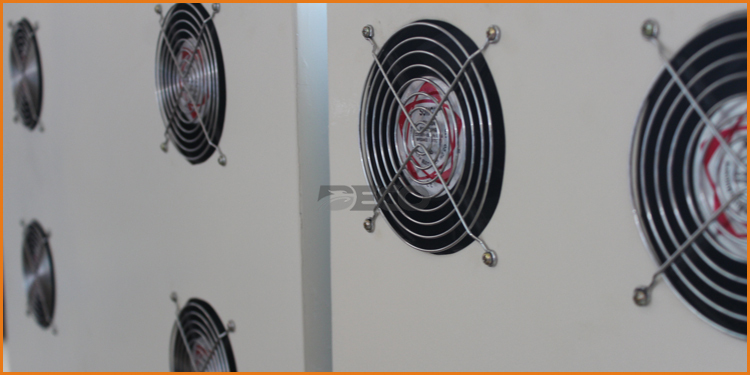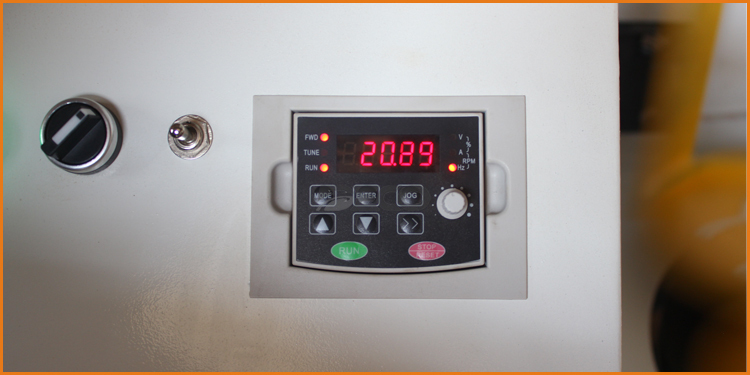 Accessories
Complete Set of Lab Planetary Ball Mill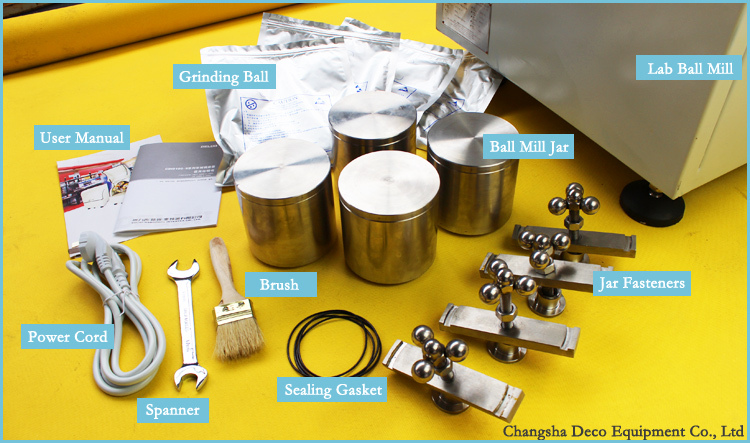 Remarks
Please note: for this DECO mill, you require two or four grinding jars of your choice and the corresponding number of grinding balls. The grinding jar material must also be harder than the material to be ground. In normal cases, grinding jars and balls of the same material are used. To shorten the grinding time, larger or heavier grinding jars and grinding balls with a higher density can be used. However, the standard package of the mill doesn't include the grinding jars or balls. They must be ordered as accessories.